I was the Multimedia Intern at Pittsburgh City Paper over the summer, where I had great opportunities to practice working with photos and videos.
Published July 10, 2017
SPACE gallery, Downtown, recently dove into the past through the lens of punk photographers and musicians in the exhibit Non-Punk Pittsburgh.
Curated by Dennis Childers and Larry Rippel, this collection of personal and discovered photographs, band posters, film and video offered an air of nostalgia for those who were a part of the Pittsburgh punk scene in the late '70s and early '80s. (The show closed in June.)
Childers and Rippel, along with friends from the past, filled the industrial gallery space with photos portraying strong personalities, according to Amy Staggs, curatorial assistant.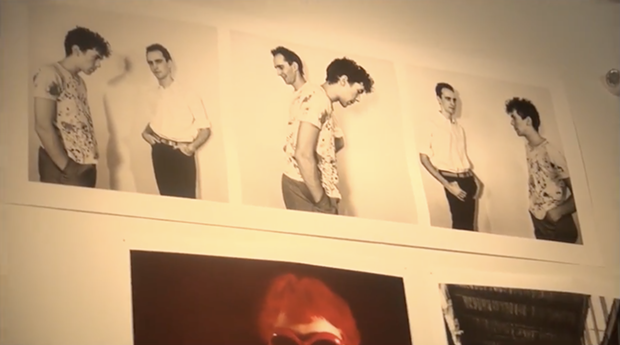 "Let's not select a million photos, but let's select the really strong pieces and blow them up really big," Staggs said. "Choices were made not just about how many, but themes and location. You can see the exhibition list simply describes where things are happening and you get a sense of a ping-pong theme — things would happen in Oakland, then the Hill District, then other parts of the city."
Not only did SPACE provide visual flashbacks, but it also hosted jam sessions every Friday throughout the exhibition from April 7-June 18. Genres varied, but among the most popular of these shows was the reunion of Carsickness, Childers' defunct-though-iconic punk group, which is featured in many of the photos in the gallery.
"They were pretty big in the punk scene, they toured a bit, their members went on to do other things in music, so it was a big deal for them to reunite after 30 years," Staggs said. "We had a show here and you couldn't move, it was so packed with people."
Dave Zak, art installer, said that one interesting part of the exhibit was the massive collection of band posters Childers and Rippel had collected and saved throughout the '70s and '80s.
"There's big names on there, like John Cale of the Velvet Underground; the Sex Pistols played a show," Zak said. "A lot of interesting things; I grew up in Pittsburgh and had no idea people were mixing it up with these bands that I loved." [Editor's note: The Sex Pistols were booked to launch their lone U.S. tour in Homestead, in December 1977, but the show was canceled.]
Speaking out against injustice is an integral part of this culture, and Non-Punk reflected that political edge. The gallery featured an outlet for modern-day punks who walked through and felt the need to contribute. The front window space was filled with cutout newspaper and magazine collages with a message to society. One anonymous artist pieced together clippings that read, "create a better choice for everyone, stay calm, settle differences."
The punk scene seemed to do just that: settle differences. Celebrating their unique culture through music, art and wardrobe gave the young people of Pittsburgh an outlet to have fun and make lasting relationships that continue to inspire the city today, 40 years later.
In looking through the gallery and watching "Debt Begins at 20," a short film about the local scene on loan from Carnegie Museum of Pittsburgh, Zak felt a sense of belonging as well.
"It reminded me how much my friends and myself included were like that at the time," Zak said. "I don't think it's exactly the same kind of music, bands or people but it was just videos of people at parties, being among their friends, obviously having a good time and getting to know each other. They had a really cool culture and it was good enough that people started documenting it. People care more about it today than I would have ever expected."
Check out this and more at: https://www.pghcitypaper.com/Blogh/archives/2017/07/10/an-overview-of-non-punk-pittsburgh-at-pittsburghs-space-gallery